THE ART OF CREATIVE RISKS IN ACTING
WHEN
TUESDAYS 3:30 - 5:30
Starting AUGUST 9th
THE ABSOLUTE BEST WAY TO TRY OUR ACTING CLASSES FOR KIDS IN BRISBANE IS TO BOOK IN FOR A
$1 TRIAL CLASS
AND COME CHECK US OUT!
MEET OUR INSPIRING TEAM OF COACHES AND OUR WONDERFUL COMMUNITY OF YOUNG PEOPLE. YOUR CHILD WILL BE WARMLY WELCOMED.
RETURNING STUDENTS




How to Enrol for Term 3 2022 (CLICK THE ARROW FOR MORE)
1. Click the enrol button above
2. At the enrolment screen, you can choose to either pay in full, or pay half now and your second half will be processed on
3rd August
.
NOTE: If you are enrolling more than one child, please email us with your preferred class and children's names and we will contact you to finalise your enrolment.
NEW STUDENTS
How to Book Your $1 Trial Class (CLICK THE ARROW FOR MORE)
**If you have 2 or more kids please email us with your preferred class and we will contact you to finalise your enrolment. To book your $1 Trial:
1. Click ENROL,
then select the "New Students $1 Trial"
option under Bundles
2.
To lock in your $1 trail
at the checkout be sure to select your preferred payment option under Payment Plans
from the drop down list. Either pay in full, $1 now then in full on 3 August, or $1 now then two instalments from
3 August
. You only pay $1 now.

NOTE: Our term fees after the $1 trial aren't charged until 3rd August, so you can choose to cancel your payment schedule at any time should you choose not to continue.
THE SAFETY NET
The core of all of our classes is our Safety Net Philosophy. Your child will be joining their classmates in an agreement to totally support each other, to create safe places to take creative risks.

We hear from some families that this is the first time that they have experienced anything this supportive. Having a chance to learn and practice in this philosophy is why people keep coming back.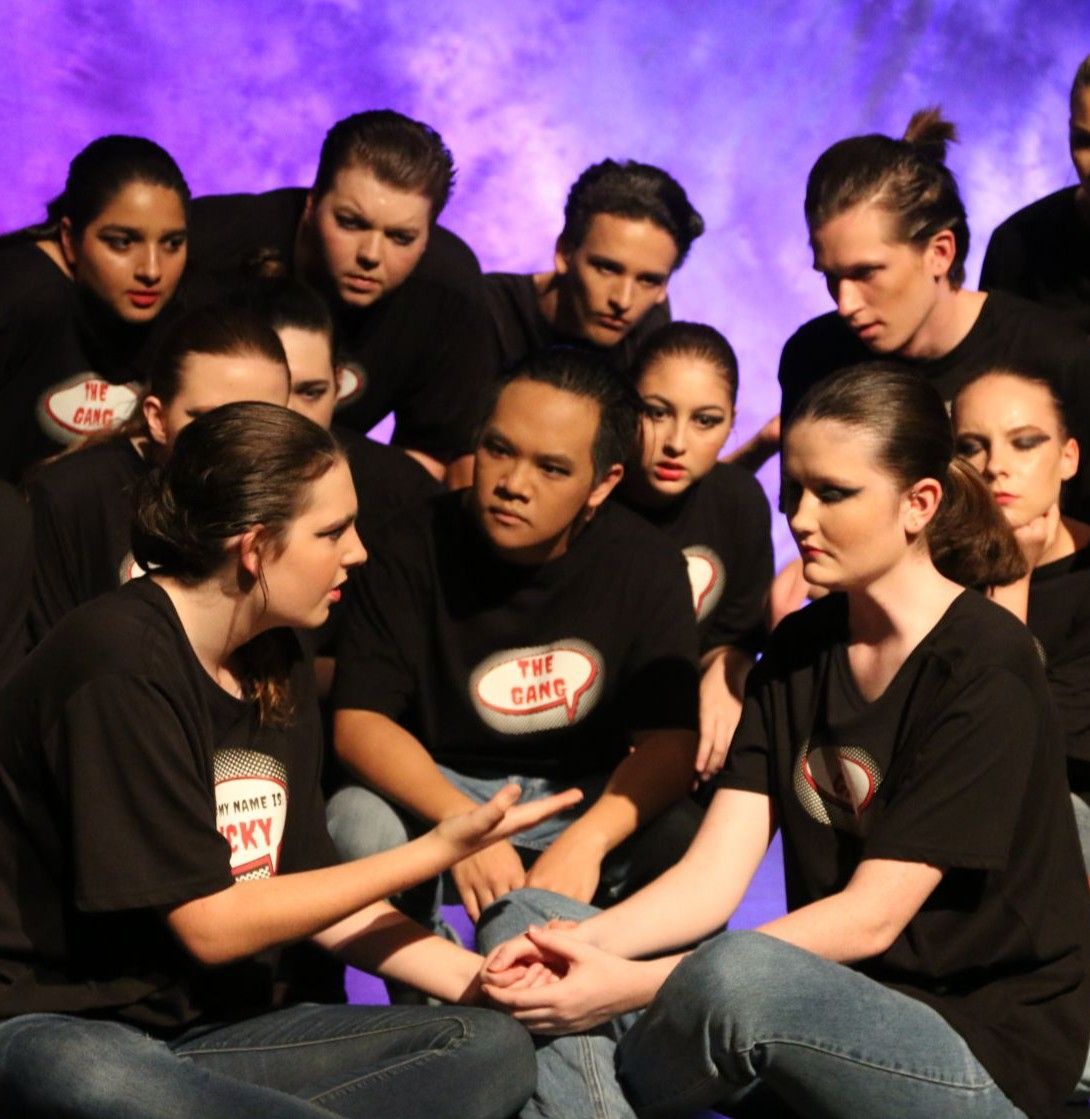 THIS TERM...
The greatest actors in the word inhabit the world of their characters, they live the story. That is what we have in store this term. We will set you up to trust in the creative choices you make, to learn skills to be able to use your character while sitting deeply in the fiction, yet with one foot always in reality. The most exciting part is you will be acting in character along side your coach in an original extended improv. Get ready to manoeuvre the drama as it unfolds to find your way to a unique ending. Here's what we've got planned.
Commitment to Your Creative Choices
As a young actor, whether you're experienced or just starting out, the ability to make confident, unique choices is one of the most important skills to develop. This term will give creative kids enormous opportunities to feel supported to share their amazing ideas and embrace them. There is nothing more exciting for a student than to make a creative choice and feel it celebrated.
The Joy of
Pretending
T
o
truly embody a character in a make believe setting, while telling a made up story is about as much fun as you can possibly have. For you to beagle to endowment, people places and things to serve your story, or the world you create is really next level. It takes us back to the essence of play as we have as a young child, and is the seed of greatness when acting. Through guided imagination trails, creative storytelling. Role plays and the high light the extended improvisation, your joy-o-metre will be off the dial.
Importance of Listening and Focus
The best actors are the best listeners. You will discover first hand that by developing the skill of knowing when to speak and when to listen that you will have more control over your performance. Equally when to give focus and when to be courageous enough to take focus makes for dynamic performers. The crackling excitement that is felt when you are actively in the story you are creating , and not just a passive player, is electric. The transference of these skills into life is crucial to being a successful adult.
The Power of
One
Once
yo
u see how quickly you feel accepted as a member of our community, you will instantly see your confidence increase. You will be immersed into activities that are exciting. You will learn true creative freedom and power comes from being supported and learning to support others. True creative power never gets fully flexed when we are alone. When many individuals come together to form one powerful creative ensemble, positive outcomes are compounded.
Life is a
Game
This term has been curated with carefully selected activities, exercises and games that are fun, high energy, and that will develop the skills needed to improve in acting. Equally you will see an increase in life skills such as quick thinking, creative problem solving and the joy of teamwork. It is scientifically proven that acting-games are one of the most effective ways for young people to learn, and retain, new skills. You can't blame us if they are also fun!
Create & Inhabit a
New World
One of the outcomes for this term is that you will get a chance to create and work within a fictional world with your class. You will act alongside your coaches as characters from within this world, and live a drama as if it was all real. Like the thousands of students that have performed in an extended improvisation, you will find this experience beyond magical. To immerse yourself in the world of your character is one of the greatest gifts an actor can get.
Acting Is Just The Tip Of The Iceberg
It is no secret that the Australian Acting Academy is Brisbane's Best Acting school for kids and teens. It isn't so much what we do that makes this so, it is how we do it.
Your child will be treated with kindness and respect, and welcomed into our community from the word go. Kids need to be guided how to be part of a team/ensemble, and that is what they will get here. This sense of belonging will increase their focus and general contentment in life. Every child is treated as an equal and all ideas are heard.
Over 90% of our outcomes are student created. The bliss of being a creative child and having somewhere to use this creativity builds a healthy sense of self belief.


Our classes are designed to challenge even the most experienced students, but at the same time perfect for beginners. Your child will work at their level and will be encouraged to grow and take creative risks.
Once your child has trained with us in regular classes, if they show a strong aptitude for the creative arts, plus a keenness to learn, and are 11 years or older, they have the chance to be nominated to audition for our extension classes.
These classes are next level, and keep extending students right up until they are ready to be part of the industry or are auditioning to enter into further studies.
We are seeing a decline in creativity being valued in our school system, so we exist to make sure all creative kids feel that their gifts have a valuable role to play in our society. Acting is just the tip of a very big iceberg for your child's development.
What our AAA Family has to say...
One of the best days was when my son came home from his Australian Acting Academy class; we were just going about our general business and without prompting he said, "Mum, I love it at AAA. When I'm there, I really feel like; like 'ME'.
- Jo Behlau (parent)
The Australian Acting Academy is amazing. From to classes to camps I have found a safe place and a family to express my creative side. I have learnt so much with the AAA and really did have the best 5 days of my life on camp. I would 100% recommend the AAA to any aspiring actors and artists looking to take their skills to the next level and find not just a house, but a home.
- Louis Boland (student)
The team at AAA are outstanding! They go above and beyond to help each child reach their full potential. From weekly classes, extension and camps I cannot fault them. My daughter just got back from her first camp. The positive impact 4 days has had on her is amazing. I could go on and on with how happy I am with the care she received and friends she made, and the fun she had.
- Jo Trull (Parent)
My son has been going to the AAA classes for a few years now and loves them more than ever. He has just returned from the spring camp, which was of course, awesome. I think he talked non-stop for 24 hours about the activities, the people, the fun etc and immediately wanted me to book the summer camp! AAA provide such a warm, nurturing environment for all involved that ensures that each child shines and goes from strength to strength. Thanks so much to Brendan, Kareena and the team for all your hard work.
- FionA CURRAN (Parent)
Our daughter loves her Acting Classes with the Australian Acting Academy. I've never seen her face light up as much as when she talks about her classes and what they did.
- Madonna dunn (parent)
Truely an amazing place for creatives! Even if you think you don't want to act I would still highly suggest to do some class or do there amazing camps! It helps you build confidence and truely grow as a person. JUST GO AND TRY IT ALREADY!!!
- Jett Robson (STUDENT)
Created with